"I don't think I understood how dangerous hopelessness is."
Chrissy Teigen got super real about her experience with postpartum depression.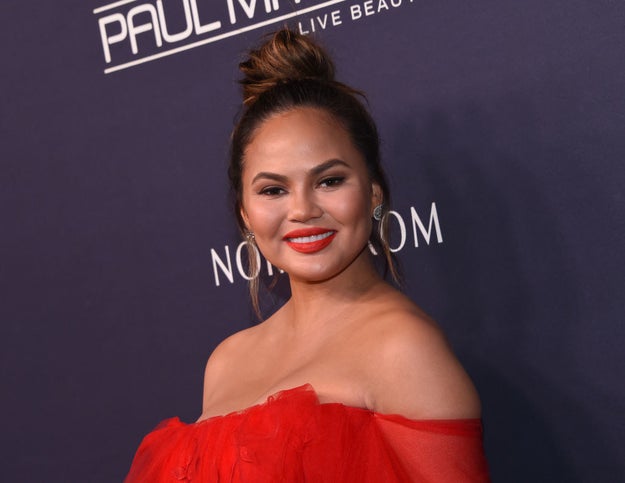 In an essay for Glamour, she wrote, "I also just didn't think it could happen to me. I have a great life. I have all the help I could need: John, my mother (who lives with us), a nanny. But postpartum does not discriminate. I couldn't control it. And that's part of the reason it took me so long to speak up: I felt selfish, icky, and weird saying aloud that I'm struggling. Sometimes I still do."
Afp Contributor / AFP / Getty Images
Michelle Williams shared that she experienced depression while she was in Destiny's Child, to the point of feeling suicidal.
During an appearance on CBS's The Talk, she said, "When I disclosed it to our manager at the time, bless his heart, he was like, 'Y'all just signed a multimillion-dollar deal and you're about to go on tour. What do you have to be depressed about?' So I was like, 'Oh, maybe I'm just tired.'"
She continued, "I was to that place where it got so dark and heavy, because sometimes you feel like, 'I'm the provider, I take care of people. I'm not supposed to be feeling this way. What do I do?' And I wanted out."
instagram.com
Logic gave a powerful speech about mental health at the VMAs.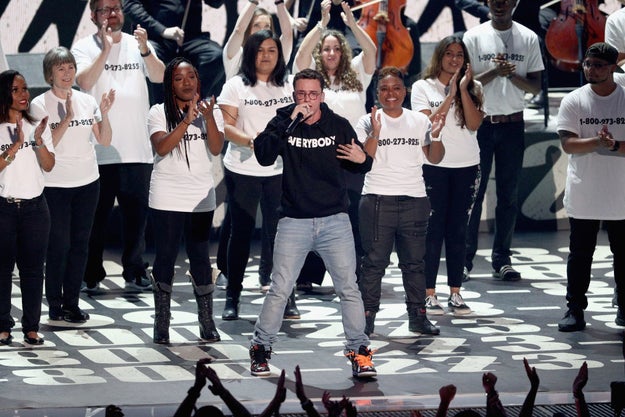 After performing his song "1-800-273-8255" (which is the number of the National Suicide Prevention Hotline), and surrounded by people who had survived suicide attempts, Logic began, "I just want to take a moment to thank you for giving me a platform to talk about something that mainstream media doesn't want to talk about: mental health, anxiety, suicide, depression, and so much more that I talk about on this album."
He went on to give a speech that touched on suicide, racism, sexism, anti-gay sentiment, and other pressing issues.
Frederick M. Brown / Getty Images
Stephanie Beatriz opened up about dealing with disordered eating.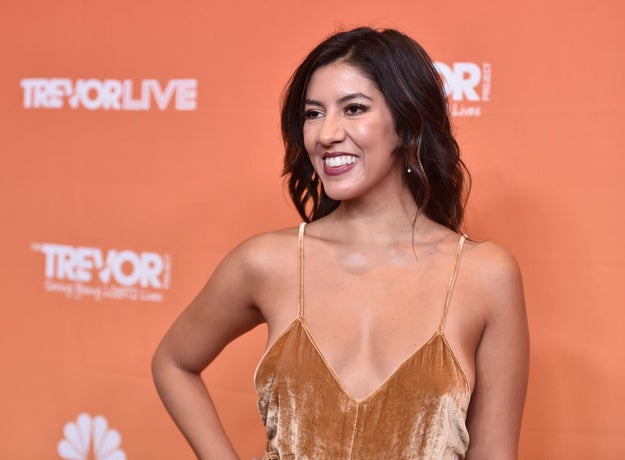 In an essay for InStyle, she wrote: "I have an eating disorder. But like a lot of us, mine is a bit hard to define. I don't purge, so I'm not a bulimic. I do eat, so I'm not anorexic. I'm what I like to call a disordered eater."
She continued, "Food was both the remedy and the punishment. I thought by controlling what I ate I was controlling my fate, when it was ultimately controlling me."
Alberto E. Rodriguez / Getty Images
Pete Davidson revealed he has borderline personality disorder.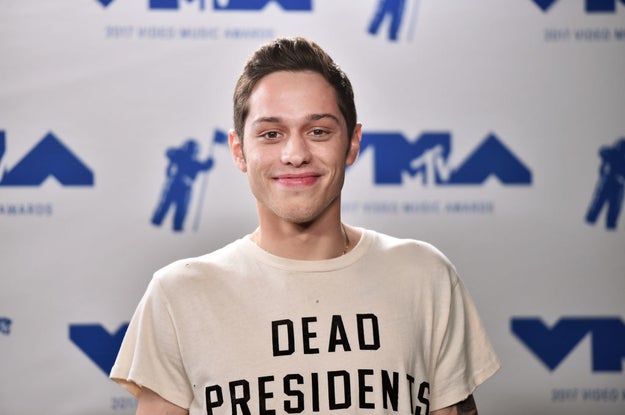 He opened up about his new diagnosis, and talked about how he's begun therapy and new medication. "It is working, slowly but surely," he said on the WTF With Marc Maron podcast. "I've been having a lot of problems. This whole year has been a fucking nightmare. This has been the worst year of my life, getting diagnosed with this and trying to figure out how to learn with this and live with this."
Alberto E. Rodriguez / Getty Images
Kesha wrote about the story behind her newest album, including details about when she felt alone and scared in rehab for an eating disorder, as well as her exhausting legal battle with producer Dr. Luke.
The whole letter, published on Refinery29, is worth the read. She wrote: "I just don't want to be that broken person. And I'm not anymore. I am a walking testament to anyone out there that with honesty and self-love, you can feel whole again. No matter what you have been through, even if things feel unfair and hurt your soul, it does not have to define who you are. You can be the person you want to be today."
instagram.com
Gina Rodriguez revealed that she experiences anxiety, while reflecting on a 10-second portrait she posted to Instagram.
She wrote:
I suffer from anxiety. And watching this clip I could see how anxious I was but I empathize with myself. I wanted to protect her and tell her it's ok to be anxious, there is nothing different or strange about having anxiety and I will prevail. I like watching this video. It makes me uncomfortable but there is a freedom I feel maybe even an acceptance. This is me. Puro Gina.
instagram.com
Colton Haynes opened up about depression and anxiety on World Mental Health Day.
In a post on his Instagram, he wrote:
Today is #WorldMentalHealthDay . This is a photo I took of myself about a month ago when I had reached a point where I had no idea what to do. I had been in bed crying/paralyzed for 3 wks with no explanation. My personal life & career were at an all time high. I've talked about this before but I can't stress enough how important it is to seek help when your feeling down or in your darkest moments. I've struggled with Anxiety & Depression since I was in the 5th grade & it's not something that should go untreated or uncared for. I know a lot of people don't understand mental illness & pass it off as ppl being dramatic…but it's a chemical Imbalance that no one wants to struggle through. It's not easy. So let's all take a second to reach out to those in need of help & those who just need someone to talk to or some encouragement. A little love goes a long way. My heart is with my fellow survivors & ppl struggling through this disease…you aren't alone.
instagram.com
Lili Reinhart talked about how she dealt with severe anxiety before being cast on Riverdale.
"I had so much anxiety booking work, and I spent almost five months holed up in this bedroom in this house just feeling anxious, waiting for my next audition, and not doing anything else. It was the most miserable time of my life," she told W Magazine.
She continued, "I had had to quit a few jobs in North Carolina because of how anxious they made me. My anxiety was so bad that I had to keep quitting jobs because I physically could not work…I threw up in my Uber because, one, I was carsick, and two, I was having a panic attack. I get home, lock the door in my room, immediately Skype my mom and said, 'Mom, I'm not okay.' I felt like my world was crashing. I didn't want to admit defeat, but I was like, 'I need to come home. My mental health is suffering, and it is making me physically ill.'"
instagram.com
Ellie Goulding wrote about her experience with anxiety and panic attacks when her career took off.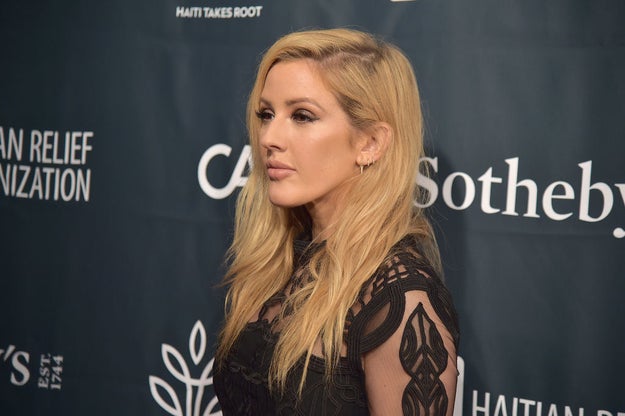 In an essay for Well+Good, she wrote: "I started having panic attacks, and the scariest part was it could be triggered by anything. I used to cover my face with a pillow whenever I had to walk outside from the car to the studio. My new life as a pop star certainly wasn't as glamorous as all my friends from home thought. Secretly, I was really struggling physically and emotionally."
Theo Wargo
Camila Mendes opened up about how she recently started seeing a therapist.
"I'm super stoked about it," she told Byrdie. "It's something I've been wanting to do for a long time, and considering how much my life has changed this year, I thought it was about time I check in with myself. It's been really difficult adjusting to the pace of this industry, everything moves so quickly and people are constantly coming at you with endless demands. I've had to make room in my life for so many new people and work obligations that now I barely have time for myself, not to mention my family and friends. So to have that slotted time once a week to focus on myself is so essential to my well-being."
instagram.com
Demi Lovato continued being an outspoken advocate for mental health, this time talking about bipolar disorder, depression, and addiction in her new documentary, Simply Complicated.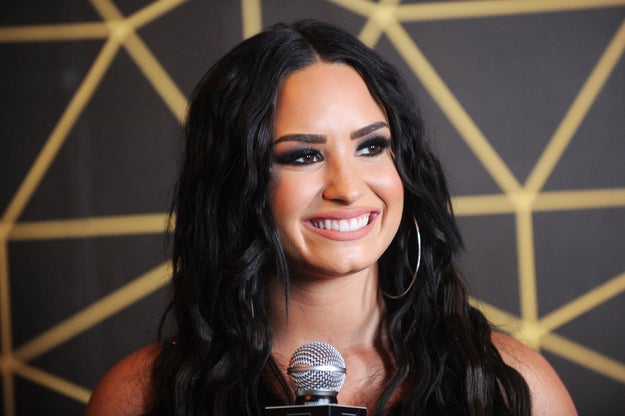 She shared, "When I first got diagnosed with bipolar disorder it just made sense. When I was younger, I didn't know why I would stay up so late writing and playing music. And then I learned about episodes of mania, and I realized that that's probably what it was. I was manic. In a way, I knew that it wasn't my fault anymore — something was actually off with me."
Brad Barket / Getty Imagines
Tyler Posey opened up about dealing with depression after losing his mother to breast cancer and calling off his engagement — and how much therapy helped.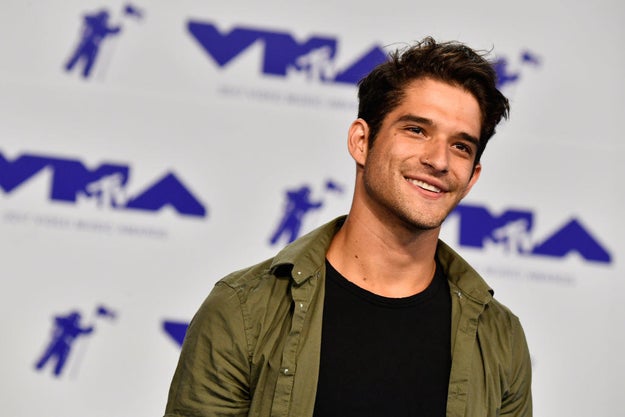 "Taking even one therapy session is just one step in the right direction to getting help and getting better, so I think it's great. I love it," he told Page Six. "Right now I'm somewhat OK and mentally stable that I don't need to be in it a couple of times a week, whereas other phases of my life I felt like I needed it at least a couple of times a week. Therapy just kind of gives you resources to manage your life outside of therapy, so you can kind of wean yourself off of it a little bit."
Frazer Harrison / Getty Images
Selena Gomez opened up about how mentally taxing touring could be.
"Tours are a really lonely place for me," she told Vogue. "My self-esteem was shot. I was depressed, anxious. I started to have panic attacks right before getting onstage, or right after leaving the stage. Basically I felt I wasn't good enough, wasn't capable. I felt I wasn't giving my fans anything, and they could see it — which, I think, was a complete distortion."
instagram.com
Abigail Breslin wrote about dealing with complex PTSD after experiencing domestic violence and sexual assault.
In a post on her Instagram, she wrote:
I'm a domestic violence and sexual assault survivor. While I now am no longer with my abuser, In the aftermath of what happened to me, I developed Complex PTSD (Post Traumatic Stress Disorder) . I took this pic of my ankle a few hours ago right after one of my 'episodes' as I call them. I was so freaked out and disoriented I slipped and fell on a piece of glass. Usually they occur right after I've been triggered… problem is, triggers are often very hard to detect.

While at first i felt this was very awkward and uncomfortable to post, I reminded myself of something I say often: PTSD is absolutely NOTHING to be ashamed or embarrassed about. PTSD is the result of an uncontrollable scenario. Never feel like you are less than because you have a condition that you didn't cause. You are still beautiful, you are still important, you are still WORTHY.
instagram.com
Cara Delevingne opened up about how she used to keep her depression a secret.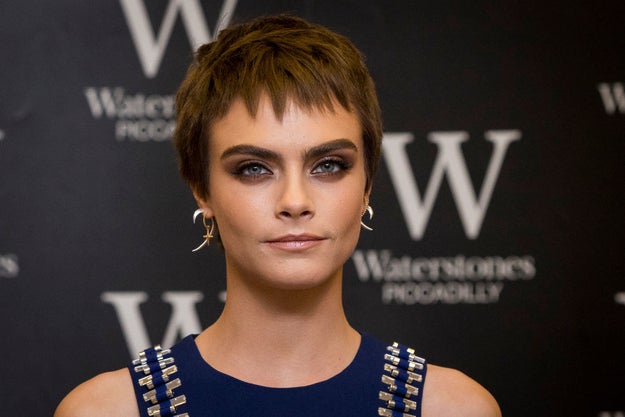 "I was so ashamed of how I felt because I had such a privileged upbringing," she said on This Morning. "I'm very lucky. But I had depression. I had moments where I didn't want to carry on living. But then the guilt of feeling that way and not being able to tell anyone because I shouldn't feel that way just left me feeling blame and guilt."
Tristan Fewings / Getty Images
Shannon Purser opened up about the misconceptions she faces as someone with OCD.
"I had a really, really bad case of it," she told People. "Everybody hears OCD and they think, 'Okay, you like to clean or be organized.' That's really not what it is, especially not for everybody."
She continued, "In my case, it was me being super self-conscious, to the point where it was debilitating. I didn't feel comfortable talking to people. It's incredible, but I will sing the praises of therapy. I think everybody should be in therapy. It helps so much to have somebody educated you can talk to."
instagram.com
Troian Bellisario wrote about her past eating disorder and how she still struggles sometimes, even in recovery.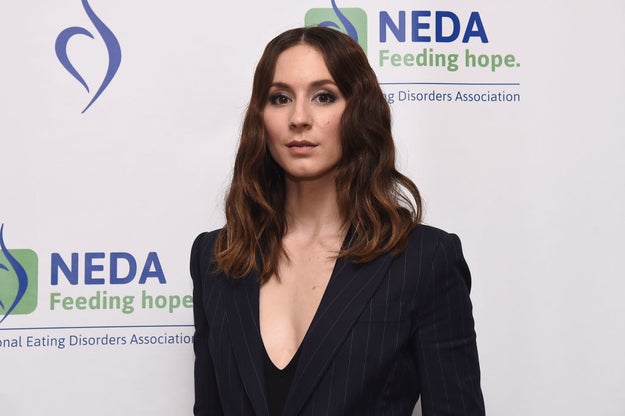 "As someone who struggles with a mental illness, my biggest challenge is that I don't always know which voice inside me is speaking," she wrote in Lenny Letter.
"There is a part of my brain that defies logic. Once, it completely convinced me I should live off 300 calories a day, and at some point, it told me even that was too much. That part of my brain is my disease, and there was a time when it had absolute authority over me. It almost killed me, and you can see that even though I have lived in recovery for ten years now, it still finds loads of fun, insidious ways to thwart me to this day. It was a difficult journey finding my way back to health. Through hard introspection, intense medical and mental care, a supportive family, friends, and a patient and loving partner, I survived, which is rare."
Ilya S. Savenok / Getty Images
Hayden Panettiere talked about her postpartum depression and how it took time for her to realize something was wrong.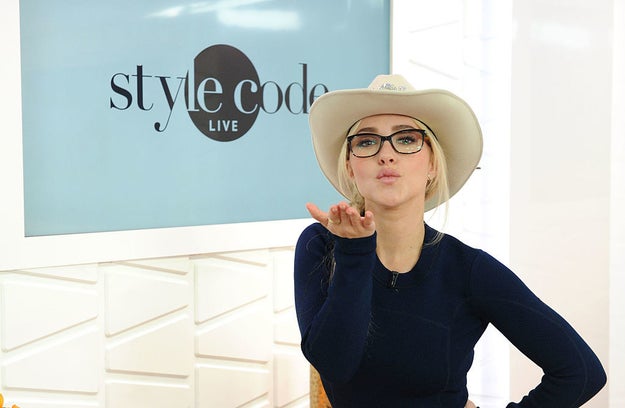 "It takes you a while and you feel off," she said on Good Morning America. "You don't feel like yourself. But, you know, women are so resilient, and that's the incredible thing about them. I think I'm all the stronger for it. I think I'm a better mom because of it because you never take that connection for granted."
Craig Barritt / Getty Images
Gabourey Sidibe revealed she dealt with depression, suicidal thoughts, and bulimia in her memoir, This Is Just My Face: Try Not to Stare.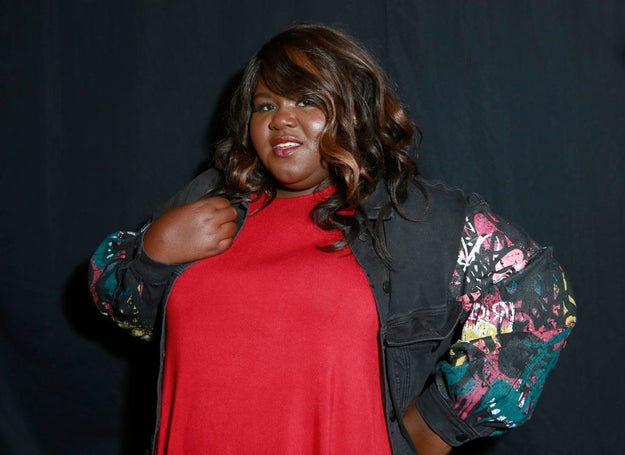 "I just accepted depression as something that's part of my anatomy; it's part of my chemistry, it's part of my biology," she told People. "When it's too big for me to just turn around on my own, I see a therapist. I see a therapist anyway. We all should see a therapist. If only for the hour a week that you can talk about yourself and not worry about monopolizing the conversation? Fucking do it, it's worth it!"
Gonzalo Marroquin / Getty Images
Hayley Williams talked about her experience with depression.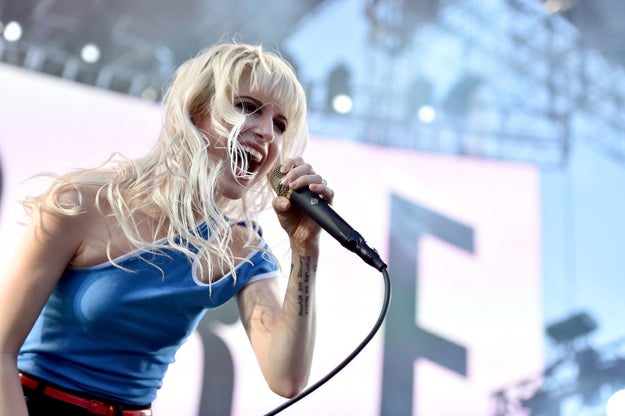 "For the first time in my life, there wasn't a pinhole of light at the end of the tunnel," she said in an interview with Fader. "I thought, 'I just wish everything would stop.' It wasn't in the sense of, I'm going to take my life. It was just hopelessness. Like, 'What's the point?' I don't think I understood how dangerous hopelessness is. Everything hurts."
Alberto E. Rodriguez / Getty Images
Katy Perry shared that she used to deal with suicidal thoughts.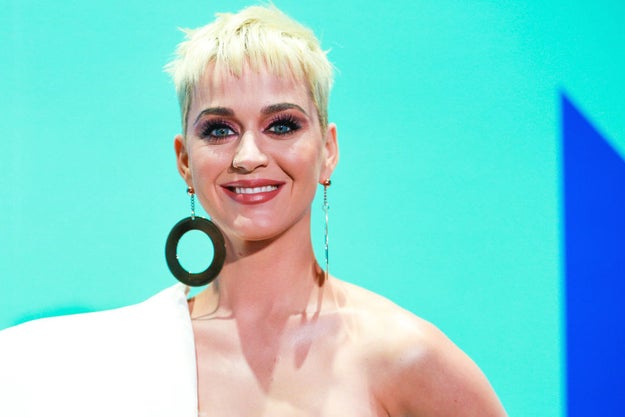 During a livestream of her life, Katy Perry broadcasted a therapy session, where she talked about struggling with alcoholism and suicidal thoughts. "I wrote a song about it," she said. "I feel ashamed that I would have those thoughts, feel that low and that depressed."
Rich Fury / Getty Images
Zendaya talked about dealing with anxiety, first triggered by a bad performance.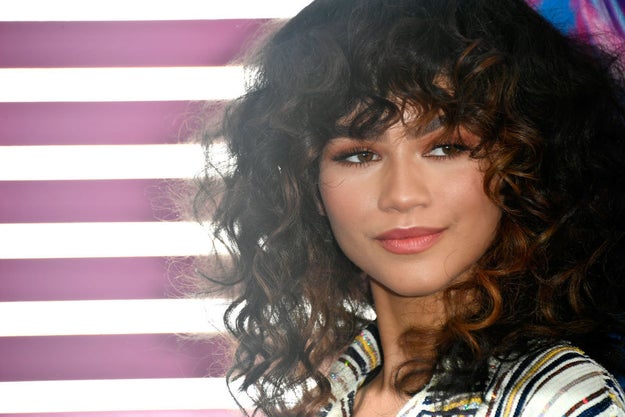 "I used to struggle with anxiety pretty bad," she wrote in a blog post on her app. "It only happened when I sang live, not when I danced or did any other live performances, and it stemmed from a bad experience I had while singing on 'The Ellen DeGeneres Show' in 2013. It wasn't my best performance and I've never let myself live that down. I had mad anxiety ever since that."
Frazer Harrison / Getty Images
Alanis Morissette talked about dealing with postpartum depression for the second time.
"There are days I'm debilitated to the point where I can barely move," she told People. "As a kid, I imagined having children and being with an amazing partner. This is a whole other wrench I didn't anticipate."
instagram.com
Pink posted a moving and encouraging note about mental health after the death of Linkin Park lead singer Chester Bennington.
She wrote:
The sadness can totally get to you. Sometimes it feels like the only thing that's real. But there's a joke waiting right around that dark corner, a smile from a stranger, a beautiful flower blooming, an opportunity for you to make someone else's day brighter, just because you understand. If you're reading this, then you're not alone in this big, scary, fucked up, beautiful world. I'm here doing it too. And I love you. You make a difference. You matter. Hold on one second longer. Tomorrow might be the best day of your life. #ripchester
instagram.com
Gabrielle Union talked about why she's been so open about her sexual assault and resulting PTSD over the years.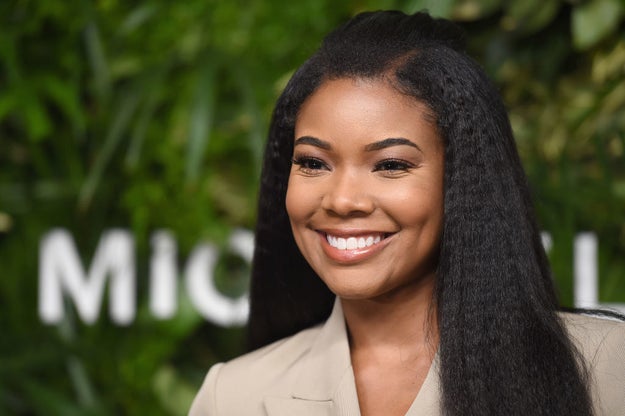 In an interview for Lenny Letter, she said, "What's crazy is that every time I talk about being raped, it's a revelation. It trends. It's news. We like to think it's not affecting our mothers, or sisters, or fathers, or brothers, or neighbors, or significant others. But the reality is, it is the most underreported crime in the world. You do know us. We are right here. We're in your office. We're in your bed. We're everywhere."
Dimitrios Kambouris / Getty Images
Prince Harry opened up on the impact of pretending to be fine after losing his mother.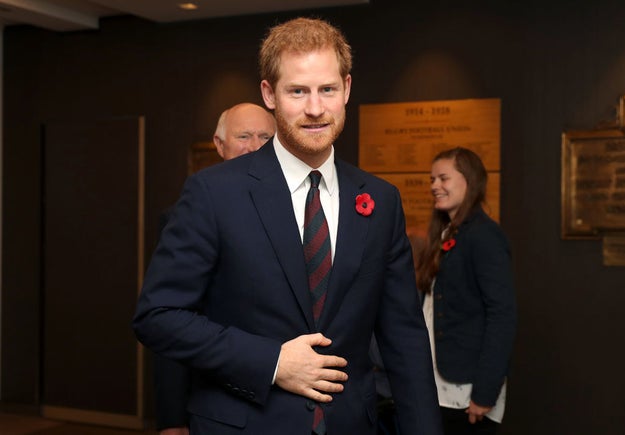 "I've spent most of my life saying, 'I'm fine,'" he said on the Mad World podcast. "I can safely say that losing my mum at the age of 12 and therefore shutting down all of my emotions for the last 20 years has had a quite serious effect not only on my personal life but also my work as well… I have probably been very close to a complete breakdown on numerous occasions."
Wpa Pool / Getty Images
If you are thinking about suicide or just need to talk to someone, you can speak to someone by calling the National Suicide Prevention Lifeline at 1-800-273-TALK (8255) or by texting HOME to 741741, the Crisis Text Line. Suicide helplines outside the US can be found here.