"What, 63 years since Rosa Parks got arrested in Montgomery and black women are still shutting down racist assholes in Alabama."
Justin Sullivan / Getty Images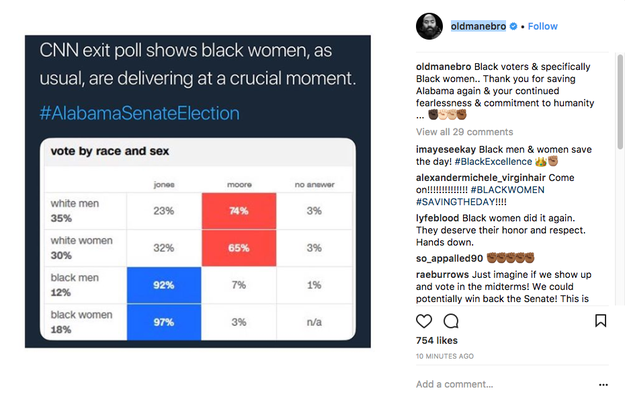 Via instagram.com
Black residents make up 26.8% of Alabama's population, according to US Census data, and often vote for Democrats. And voter turnout during Tuesday's election was high.
"Trust black women, trust a real investment of resources, and trust excellent organizing," Symone Sanders, Priorities USA strategist, told BuzzFeed News.
The night before the election, Kayla Moore, Roy Moore's wife, had defended her husband against people who said he was racist.
"We have many friends that are black, and we also fellowship with them in church and in our home," she said at a campaign rally.
For his own part, Jones has pointed many times to his record of helping black residents, often pointing to when he was a federal prosecutor in the infamous 1963 bombing of the predominantly black 16th Street Baptist Church in Birmingham, pursuing a case against two members of the Ku Klux Klan.
LINK: Donald Trump's Playbook Couldn't Save Roy Moore
LINK: Democrats Just Scored A Historic Win In Alabama